Release Date: December 5th, 2016
Synopsis:
Deprival haunted her…
Regret troubled her…
Silence left her detached...
A life in the service of others is both penance and a blessing. She soothes her personal hell by pulling victims from theirs, helping them on their path to survival; never finding her own.
When a crippling blow finally evaporates her last hope, the temptation to give up is strong. Still, she can't find it in her to turn her back on those who need her: the innocent, whose rescue is her perpetual goal.
He was blind, but now he sees how his family has sifted through his fingers. The reality hits hard when his son becomes a stranger, slipping deeper into transgression. Concern has him call on the one person he fears will see his own failures all too clearly. A woman he's kept his distance from for his own protection.
What appeared to be an incompatible pairing, turns out the unyielding bond needed to heal them all.
Purchase Links:
Teasers: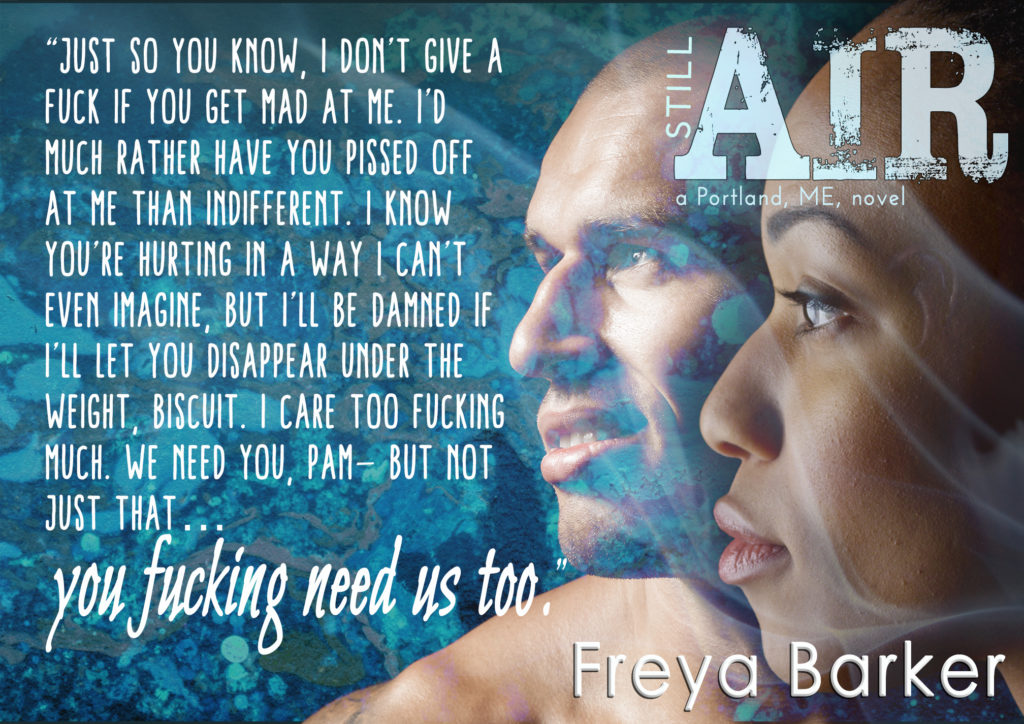 Excerpt:
"What are you thinking?" he mumbles, his large frame still pinning me to the mattress, his face buried in the spot low on my neck he seems to like.

"That I feel safe," I tell him, surprised at my own conclusion. "In more than one way, actually," I add. "I'm not sure how long it's been, maybe I never had it, but I'm not scared of the future anymore. Or of letting myself feel." Dino pushes up on his elbows, all his attention focused on my face as I smile. "I admit that for a while last night I wasn't so sure, but that disappeared when I saw you waiting for me. I'm grateful for your words but I didn't need them. Trust is not something I easily give, but I trust you."

"Thank you." His lips move against mine before he lifts away. "I was an ass and it had little to do with you. It was the realization I was failing as a parent." A sharp shake of his head cuts off the protest that was forming on my lips. "I wasn't watching Gina. I was too preoccupied with other things to notice she was slipping. Last night was a knee jerk reaction. I have to get used to sharing things again. I haven't been able to do that in a long time. It was always just easier to deal with things myself. I should've talked to you."

"Stop." I cover his mouth with my fingers. "Enough of the self-recriminations. Lord knows we both have a knack for those. I still struggle with the what-ifs. I don't want to do that with you. Don't want to have regrets of any kind, and the only way to do that is to be completely open. Give you all of me, warts and all. All I want in return is to trust that when we hit the inevitable bumps in the road, you'll have my back, just as I have yours."

Dino's beautiful brown eyes turn liquid as I watch him swallow hard. "Always." His gruff voice cracks on the single word as he rolls off me and swings his legs over the side of the bed. I watch the muscles in his ass flex as he makes his way to the bathroom. Nice view. One I wouldn't mind enjoying the rest of my life.

My thoughts grind to a halt. Am I really considering that? The rest of my life?


Other Books in the Series: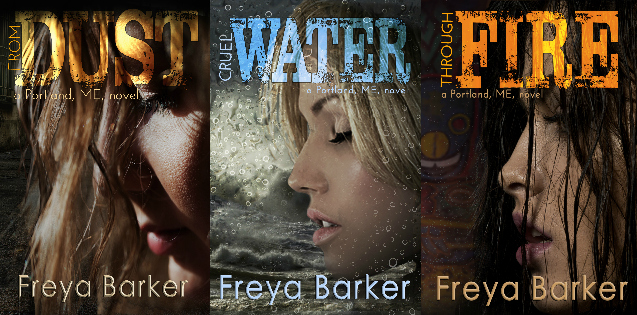 About the Author:
Freya Barker inspires with her stories about 'real' people, perhaps less than perfect, each struggling to find their own slice of happy. She is the author of the Cedar Tree Series and the Portland, ME, novels.
Freya is the recipient of the RomCon "Reader's Choice" Award for best first book, "Slim To None," and is a finalist for the 2016 Kindle Book Awards for "From Dust". She currently has two complete series and three anthologies published, and is working on two new series; La Plata County FBI—ROCK POINT, and Northern Lights. She continues to spin story after story with an endless supply of bruised and dented characters, vying for attention!
My Review:
Freya Barker has the uncanny ability to tear your heart to peaces, stitch it up and make you crave more. And this emotional roller coaster is no different than any other incredible story ever written by this amazing author. With every single book I read by her, I think that there is no way she can make me ugly cry harder or leave me in a bigger emotional puddle after finishing the story. But she proves me wrong time and time again. So yes, Still Air, this incredible emotional book left me with my heart wide open and my eyes puffy after the countless tears I shed for the characters. This is the story of a woman who's been irreparably broken and hides her demons even from the closest to her people. It is the story of a man who though his life was good, when it exploded in his face and left him to deal with the ruins. It is the story of two people, who are scared to open up to any one, two people who lived through their own brand of hell, two people that find solace, redemption and hope in each other. Two people that save each other.
I don't think I have enough words to express what an incredible book this is. The characters are very complex and well developed and feel so real that by the end of the book you feel like they are part of your circle. If you've read the previous books in the series, you already know and love them. But I can guarantee that no matter what you thought Pam and Dino's story is, you will be still surprised. They will touch corners of your heart and soul that you didn't even know existed. So be ready with the box of tissues by your side.
I think there is nothing left to say except that this book, this series is a MUST read. This author is a MUST read. So if you haven't read anything by her yet, it is about time you do so. I can guarantee you won't regret it. You can read this story as a standalone, but I think you will enjoy it much more if you read the whole series in order. So PLEASE, get your #oneclick finger working and pick your copy today. That will be your best buy for the year!!!
I wish I could give this book more than 5 *, ten times more, but as I can't, I will have to compromise with 5!!!



Giveaway!!!